Okay, here's something that's not just annoying, it's damn unfair. As you all know, bank machines, or automated tellers, charge you a fee to extract money. I'm okay with this as the machine is providing me with a service. It's convenient not to have to look for my bank and just go to the nearest machine. All fine and dandy.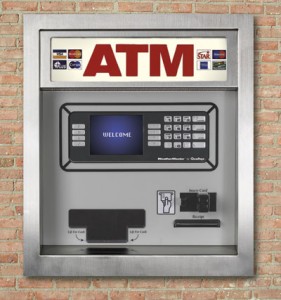 Now you may have also noticed that these machines don't all charge the same fee. Generally in my experience the fee is $1.50. Occasionally it is $1.75 or $1.25, but far and away the most common fee going at a bank machine is $1.50. Once I used a machine at Costco and it was only 75 cents. Those Costco guys are always undercutting the little guy. Now here comes the crux of the matter (I've always wanted to use that expression).
I have experienced a rather nasty strategy being used in some places with bank machines. These places are usually somewhere that has few choices for getting cash. A captive banking audience. The most recent was inside the gates of Playland, a Vancouver amusement park. I didn't have any cash when arriving at the park, but thought, no problem there will be a bank machine. We paid to get in and there was the machine. I put in my card and the fee at this machine was $2.75. Give me a break.